The Asian Institute of Management partnered with PhilDev Foundation's Dado Banatao to launch a "deep tech" startup incubator program. It's a Silicon Valley-type incubator program to support Internet of Things (IOT) and Artificial Intelligence (AI) tech startups by providing world-class mentorship, free office space, and access to extensive funding networks. It's within the AIM campus and just five minutes walk from our case rooms.
Here's how excited I am about it:
During the opening ceremonies held at the AIM lobby, Department of Science and Technology (DOST) Secretary De La Peña playfully asked why they're giving 14.8 million funding to an already rich school. He then cited a colleague who argued: "Iba pa rin ang AIM." In AIM, we believe that startups are more likely to succeed through the institute's management education expertise and its strategic location.
The incubator is located at AIM Conference Center 2nd floor. It feels like a co-working space beside the campus dorm building but with a wall named after a Filipino Tech Billionaire—our country's Bill Gates. No wonder Entrepreneur.com.ph calls the space "The most ambitious incubator in the Philippines."
The Master of Science in Innovation & Business (MIB) Class got an exclusive invitation for the incubator launch. Here are exciting things to look forward to:
Access to Global Filipino Innovators. During the admissions period,  I remember our program brochure with the quote "Innovation is more important than inventions. Innovation Implies industry."  Diosdado "Dado" Banatao is an engineer, innovator, and entrepreneur our class looks up to. With the incubator, getting access to a the world of Technopreneurship is now closer than a mini-stop chicken meal.
Innovation Ecosystem. During our Asian study tour at Nanyang Technological University (NTU) in Singapore, we were envious of how an academic institution organized "Ntuitive" as their innovation & enterprise company. They have created an environment that encourages innovation, fosters entrepreneurship, and simplifies the commercialization of research. Together with the upcoming Master of Science in Data Science and initiatives like Leaders in Innovation Fellowship (LIF) programs at AIM, the launch of the incubator feels like a necessary milestone to position AIM as an integral institution in areas of research, education, and management for the global innovation ecosystem.
Support for Innovation. You could feel the excitement of our Dean and President Jikyeong Kang for this partnership. She shared how it's no accident that AIM is located in the Philippines. The incubator partnership makes the motto "Lead. Inspire. Transform." more tangible. This was an inspiring milestone that made it in time for AIM's 50th anniversary next year.
As the class went back to the lobby for networking, I wondered how AIM will position itself in the innovation economy since we're not a technology institute. I was reminded that the moving AIM nexus logo in our lobby stands for "not business as usual." At our core is a global management institute with a focus on Asian business and society,  so Technopreneurship is just an enabler to unlock value for inclusive innovation.
It's an exciting time to be part of the MIB pioneer batch, and to be at AIM in general. Before joining MIB, I was uncertain about the opportunities and the relevance of a ten months full-time program from a management school. However, campus events like these remind us the excitement of not simply accepting what's currently available but looking for—and creating, what's not there yet. The commitment of AIM and Dado Banatao through the incubation program makes us feel hopeful that the next big disruption doesn't have to be imported from Silicon Valley but incubated right inside our campus, which is strategically located in the central business district of the fastest-growing economy in Southeast Asia.
Three months to go before graduation. It's a Volatile, Uncertain, Complex, and Ambiguous (VUCA) world out there, but definitely an exciting one inside and outside the campus.
Ok. Back to our capstone deadlines: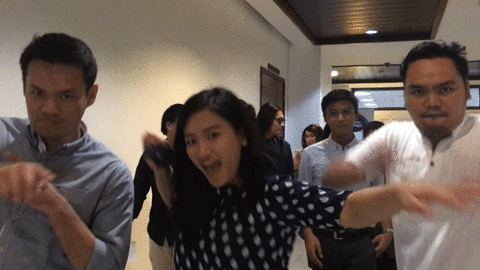 Startups can view the requirements and apply for the AIM Dado Banatao Incubator program here. 
P.S. If you haven't seen the "Farmer's Son" video yet, here's the inspiring story of Dado Banatao. 
---
Words by Dominique de Leon, MIB 2017.